Sears Kay Ranch Homestead
Established in 1887, the Sears-Kay Ranch Homestead is surrounded by the Tonto National Forest in Maricopa County. It was named after John Marion Sears, who purchased the 160-acres of land in Phoenix, and his son-in-law Harry Kay.

http://www.ansac.az.gov/UserFiles/PDF/10162014/X017_ASLDSupplement2/120%20-%20Vanishing%20River.pdf

It's about a 14-hour walk from the Sears Kay Ranch to downtown Phoenix. Sears owned a homestead at 4032 North Seventh Street in Phoenix, and lived with his wife Mary and their daughter, Ella, and two sons, Perry and George.
The grounds included orchards of apples, peaches, apricots, pears, figs, and almonds as well as a pump house and a windmill. In addition to the orchard, the Sears maintained a dairy. Sears lived here with his wife Mary and their daughter, Ella, and two sons, Perry and George. Originally located at 4032 North Seventh Street, the property lines fronted Central Avenue extending from Thomas to Indian School Road. – https://pioneeraz.org/victorian-house-original-building/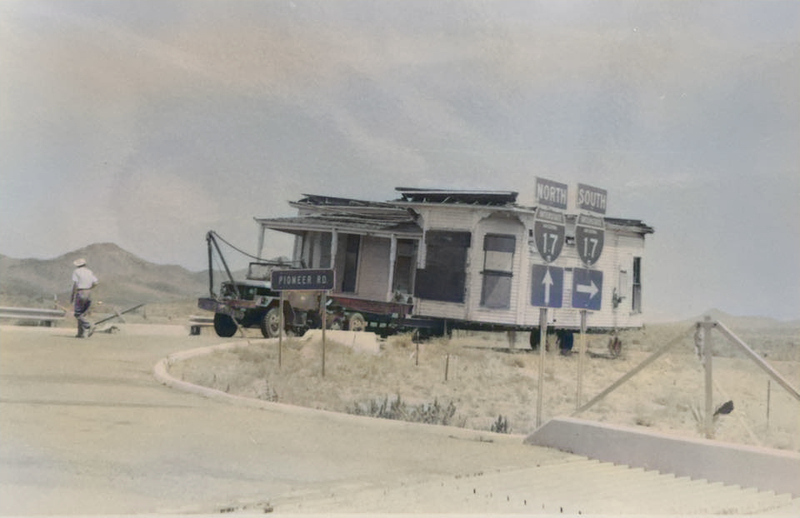 According to the Pioneer Living History Museum, John Marion Sears, a veteran of the Confederate Army, was born in Jackson County, Missouri on October 26, 1843. He was the son of Nathan and Nancy (Mills) Sears of Kentucky. He was a veteran of the Confederate Army and came to Arizona in 1878 at the age of 35 and subsequently spent 52 continuous years in the cattle ranching business.

J.M. Sears and family were election officers for the Democrats in 1906.

Sears and his family started the ranch by driving cattle from California. From "The Early Days: A Sourcebook of Southwestern Region History, Edwin A. Tucker"
Along the Verde River were the Ashurs, the Sears, and the Menards, all bringing cattle in from
California in the early '80s. Charley Mullen, now a resident of Tempe, once told me that he and
his brother had cattle at the Club Ranch high up on the west side of the Mazatzals in 1882. He
said this was the finest grass country he had ever seen, and it must have been for it is still one of
the best ranges on the Tonto although it has been heavily stocked for as long as any on the Tonto.

From "Vanishing River, Landscapes and Lives of the Lower Verde Valley":

Conflicts between sheepmen and cattlemen erupted in the 1890s, and the Pleasant Valley War was one famous episode. It lasted five years and the sheep were driven out of Tonto Basin, but at a cost–29 men, representing all the mails of the Graham side of the Graham-Tewskbury feud.

The conservation movement of the 1890s threatened sheepmen and cattlemen alike. In 1894, all grazing was prohibited on public land; in 1897, cattle were permitted to graze on the forest reserves but sheep were not, sending the sheep ranchers into panic. Cattlemen and sheepmen finally united when they realized that their common foes were the federal government and homesteaders.

In 1895 a fee was established to pasture animals on forest reserve lands. Eventually, barbed-wired fences were put up, permitting greater control of pasturage. By 1910, there were over 40,000 miles of barbed-wire fences across Arizona.

The Sears-Kay Ranch was established in 1913, when W.P. Sears filed a homestead entry.

The 1915 map of the Sears homestead indicates a windmill, hay shed, well, shops, two houses and two additional outbuildings. An irrigation system providing water to fields south and west of the ranch buildings was recorded by archaeologists. A prehistoric habitation site apparently has been obliterated by the historical-period activities.
In 1927, Colin Campbell bought out the Sears-Kay Ranch, and began running sheep in the allotment.
Between 1927 and 1940 the entire Sears-Kay allotment, which encompasses today's Sears-Club allotment to the east and southeast of Horseshoe Reservoir and adjacent areas, was grazed by sheep during winter.
For over 100 years, hundreds of thousands of sheep grazed through the annual sheep drive and their driveways.
http://windrosefiberstudio.blogspot.com/2011/04/sheep-drive.html
John Marion Sears died at the age of 94 in 1937. He is buried at Greenwood Memory Lawn Mortuary & Cemetery, 2300 W Van Buren St, Phoenix.

https://www.findagrave.com/memorial/34071477/john-marion-sears
https://billiongraves.com/grave/John-Marion-Sears/17541328

Mary Elizabeth Sears (1841-1906)
https://billiongraves.com/grave/Mary-Elizabeth-Sears/17541329

Harry Kay Sears (1871-1950) is also buried at Greenwood.
https://billiongraves.com/grave/Harry-Kay-Sears/17541330

Mary Irene Sears (1898-1901)
https://billiongraves.com/grave/Mary-Irene-Sears/17499110

George W. Sears (1871-1929)
https://billiongraves.com/grave/George-W-Sears/17541326

His brother Eli Sears lived in Tempe, Arizona and also served in the Confederate States Army, believed to have served in company K, 5th Missouri Cavalry Regiment. Eli had 6 children, including another John Marion Sears. This JM Sears would move to Tempe and marry Mary Lena Coughran.

Brothers Jesse and Thompson E. Sears lived in California. Thompson served in the 4th Missouri Cavalry Regiment.

The Sears family's Victorian house sits in the grounds of the Pioneer Living History Museum. https://pioneeraz.org/victorian-house-original-building/

Sears Kay Ranch is also a road in Camp Creek, Arizona.