The Sears Gazetteer contains a list of locations in the USA with the name Sears, compiled by Ray Sears over the years. Also see Maine, Mississippi, Alaska, New Mexico, Virginia and others on this site.
Travelling in and around the Oregon Trail, we have 6 placemarks in the Sears Gazetteer for Oregon.
Sears (historical), Locale-Hood River
Sears Canyon, Valley-Crook
Sears Cemetery, Cemetery-Lane
Sears Creek, Stream-Crook
Sears Flat, Flat-Lake
Sears Lake, Lake-Tillamook
Let's start with Sears Creek and one that's not on the list, Sears Road.
Like Idaho, Oregon has a Sears Creek, and a Sears Road which runs over North Fork Getting Creek. Sears Creek is in Crook County, Oregon, between the Ochoco Highway and Marks Creek. Established in 1882, Crook County was named after General George Crook.
Crook County Genealogy resources are available at Familysearch.
The Bowman Museum is located in Crook County.
---
Sears Road runs from Row River Rd to Cloverdale Road, a distance of about 10 miles and 13 minutes. Trees, farms, fruit and vegetable stands and houses line the scenic rural drive, sometimes running parallel to the Pacific Highway.

Sears Road got some goat crossing signs a couple of years ago, according to this change.org petition and the Cottage Grove Sentinel. Apparently people travel at a high rate of speed and there have been some fatalities. One initiative which was funded was to remove 61 "fixed objects", or trees from around the roadway to improve visibility and remove hazards.
The goats would travel to another Sears location, the Sears Rock Pit, or Sears Quarry off Sears Rd.
Just southeast of Creswell, Oregon on Sears Road is the a castle, built in the last couple decades by the Marquess family. The Creswell Castle is a private residence.
The Creswell Area Historical Society (CAHS) and Museum has some resources for researching early setters and land claims. Kalapuya Indians were living in the area when the first pioneers arrived by wagon train in 1852. Creswell was incorporated in 1909.
Also on Sears Road is the Sears Ranch.
---
George C. Sears, was the County Assessor of Multnomah county, Oregon, according to An Illustrated History of the State of Oregon, by Rev. H.K. Hines, published 1893. He was born in Richford, Franklin County, Vermont, in 1841. His father was the Hon. Aldin Sears of northern Vermont, his mother was of the Carlton family.
Aldin Sears, George's father, followed the gold rush west in 1850, building "flumes and quartz mills". His oldest daughter, Lucy V "came out alone by steamer and the Isthmus, and after his second daughter came in 1851 he founded the first school in Columbia, Tuolumne county. His wife and three sons, including George C. followed in 1852.
George Sears founded a mercantile business called Penniman & Sears, which he ran for about four years, and also purchased lumber claims and built a sawmill, before moving to Santa Cruz. He moved to Portland in 1871 and worked with another partner in the grocery and commission business.
Mr. Sears engaged in the lumber business and later bought an interest in a livery stable on the corner of Second and Washington streets, continuing under the firm name of Sears & Wilmer.
In 1878, Mr. Sears received the nomination of County Assessor upon the Republican ticket and was elected in the June Following, He was re-elected in 1880. In 1882 he became Sheriff, but declined the renomination in 1884, owing to illness in his family.
He married his wife, Jennie Aldrich of RI in 1865. His wife passed in 1885.
In 1884 Mr. Sears began the purchase of property in eastern Oregon for ranch purposes, to which he has added from time to time and owns upward of 4,000 acres, controlling a large range of Government land, which he has stocked with horse and cattle.
His children are listed in the history, along with his various organization memberships. He is also mentioned in A History of the Nezperce National Forest, by Albert N. Cochrell, as a leading cattleman and leader of industry.
Mr. Sears has always proved himself the rigid man for the position, never swerving from the path of duty, but with his characteristic energy and ability and his prompt execution of the law, he has deserved the approbation of all good citizens.
---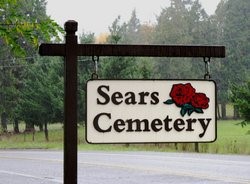 Another placemark in Oregon is the Sears Cemetery at the Cottage Grove Bible Church in Cottage Grove, Oregon. Sears Cemetery contains at least 29 Sears family members, the first buried being Rhoda Sears (1784 – 1861). Her spouse was John Sears (1852-1915).
Jane Carter Sears is the second oldest marker, 1820-1890.
---
The very presidential Burford/Sears family, the offspring of Hezekiah and Levina (Sears) Burford also settled in Oregon.
Hezekiah (1811-1884): m'd SEARS, Levinia; settled on a DLC in Willamina, Yamhill Co prior to moving to Polk Co and then to Marion Co where he died; founder of Monmouth University, now known as Western Oregon State College; traveled to Oregon with the John E. Murphey train.

His children:
Elizabeth A: d/o Hezekiah and Levinia (Sears) Burford
George Washington: s/o Hezekiah and Levinia (Sears) Burford
James Monroe: s/o Hezekiah and Levinia (Sears) Burford
John Milton: s/o Hezekiah and Levinia (Sears) Burford
Julia Ann C. (1844-1920): m'd SIMMONS, d/o Hezekiah and Levinia (Sears) Burford
Martha E.: d/o Hezekiah and Levinia (Sears) Burford
Mary Jane: d/o Hezekiah and Levinia (Sears) Burford
Thomas Jefferson: s/o Hezekiah and Levinia (Sears) Burford
The Oregon Pioneers web site also mentions Elizabeth Sears Byerly and her husband's 10 children.
BYERLY, Absalom (1833- ): m1. ALLEN, Mary Florence; m2. CROW, Dolly; s/o Martin and Elizabeth (Sears) Byerly; father of 10 children including Henry, Leroy, Arabella, Frank, Otto, Eugene, Edward, William, Maude and Mary
BYERLY, Catherine D. ( -1917): m'd BYERLY, Henry; maiden name unknown at this time
BYERLY, Henry (1830- ): m'd 1852 [ ] , Catherine D.; s/o Martin and Elizabeth (Sears) Byerly
BYERLY, Martin (1810-1893): m'd SEARS, Elizabeth; father of 6 children including Absalom, Henry, Jane, Michael, Jefferson and Adelaide; emigrated with 2 horse carriages, 12 yoke oxen and 3 wagons
BYERLY, Michael ( -1852): s/o Martin and Elizabeth (Sears) Byerly; died on trail
Carrol Jackson Sears was married in 1837 to Martha Jane Carter (1820-1890).

From Ray Sears:

This family is from pioneer Carroll Jackson "Jack" Sears (1815-1901) – !BIRTH-MARRIAGE-DEATH-CHILDREN: Letter from Dale Sears, Lilburn, GA; 1784-1852; Letter dtd 25 Jan 1995; ; copy in poss of Ray Sears; In 1837 he moved to Washington co, AR and had all three children. In 1852 he took Jane, three sons and mother to OR via wagon train. The Carroll Jackson Sears homestead is in Cottage Grove, OR. Three Sears brothers that live in Jacksonville, FL own the land.
Also listed, John and Dorcas Sears and their family.
SEARS, Dorcas (c1819- ): m'd c1836 SEARS, John
SEARS, Elizabeth J. (c1837- ): d/o John and Dorcas Sears
SEARS, Frances A. (1843- ): d/o John and Dorcas Sears
SEARS, James B. (c1842- ): s/o John and Dorcas Sears
SEARS, John (c1811- ): m'd c1836 [], Dorcas; family residing in Sacramento, CA by 1850 Census
SEARS, Mary G. (c1840- ): d/o John and Dorcas Sears; m'd bef 1865 LEWIS, George Washington (1842-1922)
Also See:
The Westward Expansion of the Oregon Trail
https://www.history.com/topics/westward-expansion/oregon-trail
Oregon Historical Society Museum
https://www.ohs.org/museum/